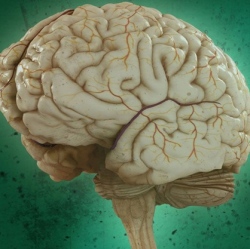 Memristors are made of fine nanolayers and can be used to connect electric circuits. For several years now, the memristor has been considered to be the electronic equivalent of the synapse. Synapses are, so to speak, the bridges across which nerve cells (neurons) contact each other.

Andy is first to summarize which principles taken from nature need to be transferred to technological systems if such a neuromorphic (nerve like) computer is to function. Such principles are that memristors, just like synapses, have to 'note' earlier impulses, and that neurons react to an impulse only when it passes a certain threshold.

Both a memristor and a bit work with electrical impulses. However, a bit does not allow any fine adjustment – it can only work with 'on' and 'off'. In contrast, a memristor can raise or lower its resistance continuously. 'This is how memristors deliver a basis for the gradual learning and forgetting of an artificial brain,' explains Thomas.

Hewlett Packard should being selling chips with billions to trillions of memristors that compete with flash memory in density and scale in 2014. Memristors seem able to create simple, scalable and efficient devices for mimicking trillions of neurons and synapses.