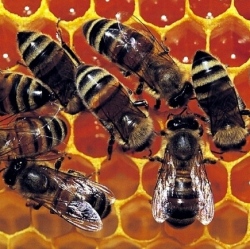 Honeybees ability to find flowers could be hampered by a chemical in diesel exhaust, say scientists. Tests showed that exhaust degraded some floral scent chemicals the bees "home in on" when they are foraging.

The study, published in Scientific Reports, also revealed that a specific group of chemicals found in diesel exhaust, known as NOx, diminished the insects' response to floral scents.

They say the results are evidence that air quality should be improved.

"We got into this, because we were aware of the impacts of airborne pollutants on human health, so it didn't seem so wild that there may be impacts that extended beyond human health," said University of Southampton neuroscientist Dr Tracey Newman, who was involved in the work.

To drill down to the chemical effects of pollution on the pollinators, the researchers made a mixture of the volatile, or smelly, chemicals that make up the scent of oilseed rape. They then used a diesel-powered generator to create a mixture of air and exhaust that closely matched levels of exhaust found on a busy road, and mixed this lab-made air pollution with the floral scent mix.

"We saw that there was loss of two of the components [of the floral odour mixture]," Dr Newman said.

The two odour chemicals that were "lost" had chemically reacted with a component of the diesel exhaust, mono-nitrogen oxide, known as NOx. Having worked out how the pollution affected the chemistry of floral scents, the team set out to discover if the bees were affected by this change.

"Bees need to decipher the chemical messages they're getting [from flowers] to be able to home in on the flowers they know will give the best yield [of nectar]," said Dr Newman.