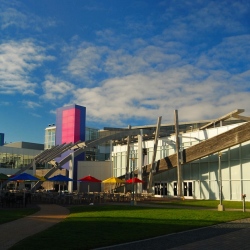 If you're one of the 6,000 developers attending Google I/O this week, May 15-17, you should know that sensors will be tracking your every step.
Not your individual steps, of course. That would just be spooky. But there will be sensors distributed throughout the conference, tracking anonymous crowd data such as noise level fluctuations, footsteps, temperature, humidity, air quality, and more. In all, Google will be collecting more than 4,000 continuous data streams, according to a post on Google's Developer blog.
The data, along with the devices and code used for the project, will be made available for public consumption via an open source license after the conference.
During the event, several screens around the conference will display real-time visualizations of the data, showing things like how the crowd is flowing from place to place, which are the quietest places for a nap, and which developer Sandbox sessions are the busiest. I'm hoping the data will also tell us which sessions have the best and worst air quality.
Google's cloud team is teaming up with O'Reilly's Data Sensing Lab to deploy hundreds of Arduino-powered environmental sensors to collect the data. These "motes" will be connected to one another via a ZigBee-based mesh network and managed by Etherios's Device Cloud. Google's Cloud Platform will collect and manage the data, while Google BigQuery will help analyze the data.