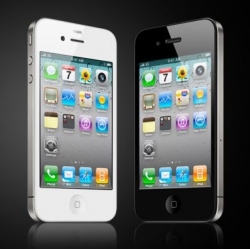 Apple sold 26 million iPhones in the third quarter of the year, slightly underperforming analyst estimates that ranged to 30 million, and a record 17 million iPads. However, iPhone sales were significantly higher — 28 percent — than the same quarter last year.

CEO Tim Cook avoided any direct mention of iPhone numbers in the canned press release, instead focusing on iPads — which recently launched in China — and MacBooks.

"We're thrilled with record sales of 17 million iPads in the June quarter," Cook said. "We've also just updated the entire MacBook line, will release Mountain Lion tomorrow, and will be launching iOS 6 this fall."

In additional good news, Apple reported that iPad adoption in the enterprise has tripled. And while iPhone numbers were not stellar, their adoption in the enterprise has doubled.

Analysts had predicted that many consumers would be waiting for the long-rumored iPhone5, expected out in fall 2012. Cook referenced that, perhaps, in this quote:

"We are also really looking forward to the amazing new products we've got in the pipeline."

The 26 million iPhones contributed to quarterly revenue of $35 billion and quarterly net profit of $8.8 billion … both slightly up from the quarter a year ago.