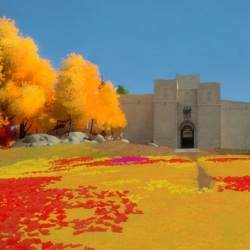 In the future, Apple could be known for selling cars and headsets for virtual reality and augmented reality. According to the Financial Times, Apple has put together a large team of VR and AR experts to explore the technologies. The report claims the team already has working prototype headsets.

There are reportedly hundreds of employees within the secret research unit, many poached from companies like Microsoft and Lytro. Last week, the Financial Times reported that Apple had hired Doug Bowman, a leading 3D interface expert with experience in both VR and AR to join its research unit. Last year, Apple acquired several VR and AR technology companies including Metaio, Faceshift and Emotient.

Though Apple's chief design officer Jony Ive told the New Yorker last year he thought the face "was the wrong place" for a computer, CEO Tim Cook could be the one pushing for a VR headset to compete with the Oculus Rift and Microsoft's HoloLens.

"In terms of virtual reality, I don't think it's a niche," Cook said during the recent Q1 2016 earnings call. "I think it can be…it's really cool, and has some interesting applications."

It should come as no surprise that Apple is investigating VR and AR. The multibillion-dollar company is constantly researching the latest technologies. Research doesn't necessarily guarantee related products are on the way, though.

VR is set for a big breakout this year. Facebook's Oculus Rift is expected to make big waves in the tech world when its finally released this March. HTC is also planning to release its Vive headset this year and so, too, is Sony with its PlayStation VR. Apple would be stupid not to at least keep up with what's happening.

A virtual reality or augmented reality headset aren't the only products Apple is reportedly looking to expand into. The company is said to be working on an autonomous car; "Project Titan" as it's codenamed has a team of up to 1,000 employees, apparently.