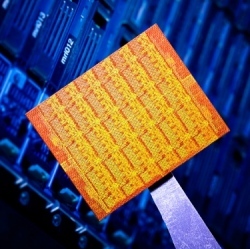 People familiar with Apple's research and plans told Bloomberg that Apple engineers believe the processors running on the iPhone and iPad will eventually be capable enough to power the company's Mac computers. Once the mobile chips become that powerful, it's likely splitsville for Intel.
It's unclear what alternatives Apple is looking at, but the report indicates it could be considering Taiwan Semiconductor Manufacturing Co. to build chips, which would make for a similar situation to how Samsung currently makes the semiconductors running the iPad and iPhone.
Apple started using Intel chips for its Mac computer lineup in 2005, and it will likely continue using Intel for the next few years because mobile chips haven't caught up to the processing abilities of desktop and laptop chips.