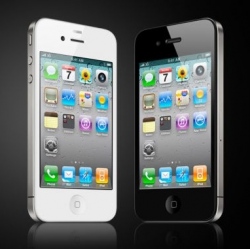 Apple has unveiled two new handsets: the top-end iPhone 5S and a cheaper iPhone 5C at an event in California. The 5S introduces a fingerprint sensor built into the phone's main button to identify the user. The 5C comes with a plastic back in a choice of colours.

It marks a change of strategy for Apple which had not launched two distinct types of handset at the same time before. The iPhone is the firm's most important product in terms of earnings power.

The new fingerprint system can be used to unlock the 5S and provide authentication for purchases from Apple's online marketplace.

One analyst suggested the feature would help the handset stand out against its Android rivals.

"Touch ID is actually quite an elegant solution to an ever more significant problem: namely, the theft of mobile devices and, perhaps even more critically, the information stored on those devices," said Windsor Holden from the tech consultancy Juniper Research.

"Many people haven't yet bothered to implement any kind of security solution on their handsets and for those who have, securing handsets with Pin authorisations can be quite a time-consuming process."

However, Apple is not the first phone company to offer such a fingerprint reader.