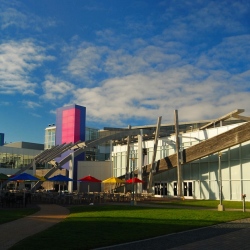 Android tablet shipments have outpaced Apple iPad shipments all year. But it's only in the last quarter that Android tablet revenue has surpassed iPad revenue for the first time.

"For the first time Android devices accounted for a greater share of the market in revenue terms than iOS," Morgan Stanley analyst Katy Huberty said in a research note today. "Android revenue share reached 46.2 percent in 3Q13, for the first time exceeding iPad share of 45.6 percent. Android's unit share grew to 66.7 percent from 58.5 percent a year ago, largely driven by Samsung and Lenovo, while iPad share declined to 29.7 percent from 40.2 percent."

Apple fans, this may be temporary, since iPad Air and iPad Mini retina tablets hit the market late in the quarter, but it's a sign of things to come.

iPad shipments dipped sharply in the first calendar quarter of the year, resulting in a year-over-year drop in iPad sales by about 2.5 million tablets — a challenging feat, one might think, in a rising market. That continued, to a degree, in the second calendar quarter of the year, with Android reaching 60 percent tablet market share. And we saw it again in the third quarter, as Samsung doubled tablet shipments while Apple grew an anemic .6 percent, with bargain-basement whitebox tablet vendors selling more than Cupertino.

Now those unit numbers are coming home to roost.

For the Apple loyalists that immediately pipe up and say that revenue is not profit and that Apple makes much more profit from tablets than Samsung and the entire world of Android hardware manufacturers, you're right. And to those who say that with the new iPads, Apple will regain any lost revenue share this Christmas quarter, I agree with you.