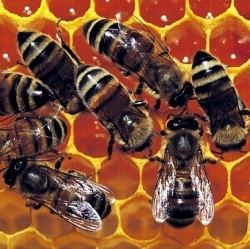 You may have heard by now: bees are dropping like flies, continuing to die at unprecedented rates, and the reason why is still a bit of a mystery. So to give them a leg up, the group Open Tech Forever has developed a beehive that can track the health of bees, and is giving the code away to anyone who wants it. From the project site:

The Open Source Beehives project is a collaborative response to the threat faced by bee populations in industrialised nations around the world. The project proposes to design hives that can support bee colonies in a sustainable way, to monitor and track the health and behaviour of a colony as it develops. Each hive contains an open source sensory kit, The Smart Citizen Kit (SCK), which can transmit to an open data platform: Smartcitizen.me

These sensor enhanced hive designs are open and freely available online, the data collected from each hive is published together with geolocations allowing for a further comparison and analysis of the hives.

If you're a professional beekeeper or hobbyist, and handy with electronics, you get a double-whammy: a free design for a high-tech beehive that can monitor your bees' environment, and a chance to contribute to citizen science.

This isn't the first attempt to enlist new technology to solve the bee crisis, but it might be the first to bring the idea to the masses. Which is good, since the Bee Crisis is something that needs a solution soon.