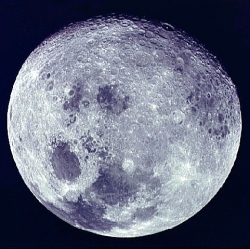 Ever since the first satellites were sent to the moon to scout landing sites for Apollo astronauts, scientists have noticed a peculiar phenomenon: As these probes orbited the moon, passing over certain craters and impact basins, they periodically veered off course, plummeting toward the lunar surface before pulling back up.

As it turns out, the cause of such bumpy orbits was the moon itself: Over the years, scientists have observed that its gravity is stronger in some regions than others, creating a "lumpy" gravitational field. In particular, a handful of impact basins exhibit unexpectedly strong gravitational pull. Scientists have suspected that the explanation has to do with an excess distribution of mass below the lunar surface, and have dubbed these regions mass concentrations, or "mascons."

Exactly how these mascons came to be has remained a mystery — until now.

Using high-resolution gravity data from NASA's Gravity Recovery and Interior Laboratory (GRAIL) mission, researchers at MIT and Purdue University have mapped the structure of several lunar mascons and found that their gravitational fields resemble a bull's-eye pattern: a center of strong, or positive, gravity surrounded by alternating rings of negative and positive gravity.

To figure out what caused this gravitational pattern, the team created simulations of lunar impacts, along with their geological repercussions in the moon's crust and mantle, over both the short- and long-term. They found that the simulations reproduced the bull's-eye pattern under just one scenario.