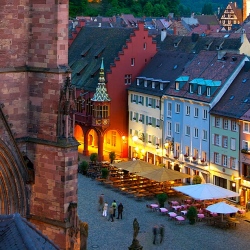 In a Sunday evening "60 Minutes" program aired on CBS Amazon chief executive Jeff Bezos unveiled the new service, dubbed Prime Air, to CBS anchor Charlie Rose.

The company has been working on the "octocopter" project in a secret research and development lab at its Seattle, Wash.-based headquarters for months in efforts to ramp up its competition against its rivals. According to the program, the octocopter drones will pick up packages in small buckets at Amazon's fulfillment centers and fly directly to customers' nearby in as little as 30 minutes after they hit the "buy" button.

But the service won't launch overnight. In fact, it may take as long as four to five years for Prime Air drones to take to the skies. There needs to be FAA (Federal Aviation Administration) approval.

Prime Air is something the Amazon team has been working on in their next generation R and D lab. The goal of this new delivery system is to get packages into customers' hands in 30 minutes or less using unmanned aerial vehicles. Putting Prime Air into commercial use will take some number of years as we advance technology and wait for the necessary FAA rules and regulations. This is footage from a recent test flight. See page at http://amzn.to/PrimeAir

Amazon hopes FAA's rules will be in place as early as sometime in 2015.