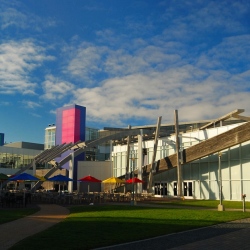 According to a press release, the money will be donated over the course of five years. Amazon, Facebook, Google, Microsoft, and Salesforce will each commit $50 million, Lockheed Martin will commit $25 million, and Accenture, General Motors, and Pluralsight will commit $10 million or more.

Quicken Loans has also committed to the funding necessary to provide computer science training for at least 15,000 Detroit public school students.

The announcement comes on the heels of a memorandum President Donald Trump signed yesterday directing the Department of Education to allocate at least $200 million (annually) from grant money it receives to support education in STEM fields.

"It's essential that the public and private sectors work together to ensure all American students have the opportunity to learn computer science and take part in the fastest growing sector of our economy," Michael Beckerman, Internet Association president and CEO, said in a press release.

On a conference call with reporters on Monday, Ivanka Trump, who serves as an advisor to the president, said that the new White House initiative aims to ensure "every student across the country, from our rural communities to our inner cities," has access to computer science education to prepare them for the jobs of the future.

Today, Ivanka Trump will also be at an event in Detroit to formally announce the Internet Association's commitment. Quicken Loans chairman Dan Gilbert; Lockheed Martin chairman, president, and CEO Marillyn Hewson; Salesforce.org CEO Rob Acker; Code.org CEO Hadi Partovi; and representatives from Amazon, Facebook, Google, and Microsoft will also be on hand for the event.

Partovi told VentureBeat in a call that the pledges from the White House and the Internet Association are important steps in ensuring that computer science is a "field that every kid has access to — not just the boys, and not just the girls, not just the white and Asian students but also the black and Hispanic students." Code.org is a nonprofit dedicated to expanding access to computer science and increasing participation by women and underrepresented minorities. Partovi says that Code.org has also worked to connect the White House to leaders at schools with successful computer science programs.

Tech executives like Tim Cook have long argued that making coding classes a requirement for every public school is the key to erasing the skills deficiency between the workforce in Silicon Valley and in the rest of the country.