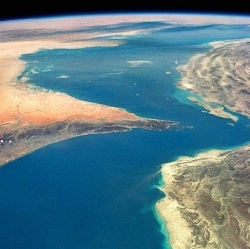 Amazon CEO Jeff Bezos saw Neil Armstrong step on the Moon nearly 50 years ago and the moment changed his life. Now, as the head of one of the robust online retailers in the world, Bezos says that space is the next frontier, a new internet that is desperately lacking in infrastructure to support new entrepreneurs.

Speaking at the Vanity Fair New Establishment Summit in San Francisco today, Bezos said the sole purpose of his rocket venture Blue Origin is to build out the same kind of infrastructure for space that Amazon enjoyed in 1995 with the early internet.

"Two kids in their dorm room can reinvent an industry," Bezos said, referring to the strengths of the modern internet. "Two kids in their dorm room cannot do anything interesting in space." Bezos says rocket reusability needs to be improved, and both Blue Origin and Elon Musk's SpaceX are working toward the goal of vastly reducing the cost of sending payloads to space.

Bezos said there's also a number of restraints right now that prevent the kind of entrepreneurial spirit that helped create Amazon do the same for a next-generation space venture. "We need to be able to put big things in space at low cost."

Bezos talked of his earliest days at Amazon more than 20 years ago, where he was driving packages himself to the post office with a 10-person team. "We were sitting on a bunch of a heavy lifting infrastructure," he said. "For example, there was already a gigantic network called United States Postal Service. The internet itself was sitting on top of the long distance phone network." This is the kind of infrastructure Bezos hopes to build out with Blue Origin.

Amazon has similar business ventures dedicated to the future of computing. Bezos says Amazon Web Services, which rents server power in the cloud to startups and even huge tech companies like Spotify and Netflix, is a similar heavy-lifting exercise that's paid off for his company.

(AWS is Amazon's most profitable and fastest-growing division.) With the Echo speaker and Alexa assistant, Amazon is betting big on artificial intelligence and hoping its platform will be the one to dominant the living room. Like AWS and the early internet before it, the strength of Alexa depends in part on what companies are able to build on top of it.

"Every time you figure out some way of providing tools and services that allow other people to deploy their creativity, you're really onto something," Bezos said. But building that infrastructure space is still his grandest dream. "I think space is about to enter a golden age."