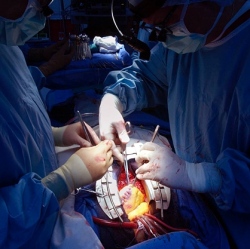 Injuryies to the Spinal cord are notorious for being practically irreversible, with accidents or diseases to this area often resulting in long-term paralysis or other disabilities. But now new research indicates that an already existing drug may give hope to patients that have been disabled from these types of injuries.

The substance epothilone, which is currently used to treat cancer and is already licensed on the US market, was shown to reduce the formation of scar tissue in injuries to the spinal cord, and also stimulate growth in damaged nerve cells in animal subjects.

Damage to the spinal cord rarely heals because the injured nerve cells fail to regenerate. That's due to scar tissue that develops and molecular processes inside the nerves, which block axon growth and hinder nerve regeneration.

"The ideal treatment for promoting axon regeneration after spinal cord injury would inhibit the formation of scar tissue," researcher Frank Bradke at DZNE (German Center for Neurodegenerative Diseases) said in a statement. "However, it is also important that the growth-inhibiting factors are neutralized while reactivating the poor axons' regenerative potential."

In order to overcome these challenges and come up with a new treatment, Bradke and his colleagues relied on previous research. They already knew that stabilizing microtubules – long, tubular filaments inside a cell – would reduce the formation of scar tissue and promote axonal growth. Microtubules also control cell growth and movement. It turns out that epothilone doesn't just help treat cancer, but it can even stabilize microtubules.

"It all depends on the dose," noted Dr. Jörg Ruschel, the study's lead author. "In higher doses, epothilone inhibits the growth of cancer cells, while low doses have been shown to stimulate axonal growth in animals without the severe side-effects of cancer treatment."

Epothilone proved effective because unlike other cancer drugs, it can penetrate the blood-brain barrier into the central nervous system, thus reaching the damaged axons directly.