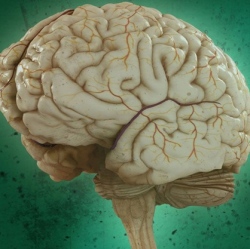 I'm standing in the control room at the Nuffield Department of Clinical Excellence's Brain Imaging Centre at the John Radcliffe Hospital in Oxford. Looking through a plate glass window with me, and gesticulating enthusiastically, is the centre's director, Professor Irene Tracey.

On the other side of the glass is one of the most powerful imaging machines anywhere in the world. Weighing in at 40 tonnes – and generating a magnetic field strength of 7 Tesla – its central component, a huge cylindrical magnet, is so big they had to take the roof off the building to get it in.

"There are only two of these ultra high field whole-body imaging systems in the UK" Professor Tracey explains.

"It's just so much more powerful than anything we've had before, and the detail you can see and the resolution of the images is just fantastic. It's taken us to the next level in terms of brain imaging."

It's at about this point that it dawns on me why Irene Tracey was quite so keen that I should come and see the scanner for myself.

The magnet was only lowered into position in July, and since then staff have been working hard to connect it all up, ready for the first patient studies – the science – to begin in the autumn.

All that remains is for a few human guinea pigs to have their brains scanned to help calibrate the machine.

"Don't worry you'll be fine," says a smiling Professor Tracey. "You like roller coasters don't you? I'm told it feels a little like your brain is going round a corner inside your head – something to do with the iron in your blood and the powerful magnetic field probably. Anyway the nausea will soon pass."

But it's not just about pretty pictures. Similarly rapid advances in our understanding of the genetics and basic chemistry of the brain have raised the prospect of genuine breakthroughs across a range of previously intractable neurological disorders, and are promising fresh insights into psychological conditions like schizophrenia and autism.

"We're on the cusp of a series of major breakthroughs in our understanding of the brain" according to the head of Neuroscience and Mental Health at the Wellcome Trust, Dr John Williams. "We have a range of tools available now that will allow us to ask very profound questions of the central nervous system. Questions we were unable to ask even five years ago. Not just about how the brain functions under normative conditions, but what might happen when things go wrong."