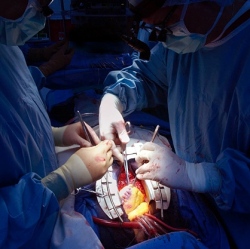 Pandorum Technologies made a recent breakthrough in 3D organ printing; they have bioprinted the world's first liver tissue. Although the organ is far too small to work as a functioning human liver, it works like the real thing. The astounding mini-liver can be used as a test platform for new drugs and vaccines.

This makes lab-testing new drugs much safer for humans and animals. Additionally, these 3D printed livers will be an inexpensive alternative to such testing. Cutting down on medical research costs is not a small feat either. It could end up saving millions of dollars down the road.

A related idea conceived earlier by an Indian firm was the digital simulation of a liver. The software would mimic a real human liver in response to drugs and toxins. This software is indeed fascinating, but the ability to test out real liver models is even better. Pandorum Technologies plans to expand from bioprinting just livers to lungs, kidneys, pancreas, and perhaps more.

The company hopes to make 3D bioprinted organs ready on demand, a much quicker system than using real human donors to transplant an organ or test a new drug. Co-founder Arun Chandru shares, "If you look at the numbers, there is a need for 50,000 liver transplants, 200,000 kidney and 50,000 heart transplants in the country, out of which less than 1 per cent donors are available at present."

Clearly, 3D printing human organs would be a major help in satisfying this dearth. Pandorum predicts that the market for artificial organs will soar within only the next few years.

Although 3D printing is mind-boggling, it's not magic. Raw materials, including liver cells, are still needed in order to print out the organs. And the resources needed would only increase as the size of the organs increase from mini-liver to fully functional liver. However, it's almost certain that scientists like Chandru will be able to push these limits and work toward something bigger.

The growth of the 3D printing industry has been remarkable over the past few years, and it will only continue to grow. Because 3D printing organs means reducing medical research costs, improving medical accessibility, and saving lives, there's no doubt that scientists will work hard to advance this technology ASAP.