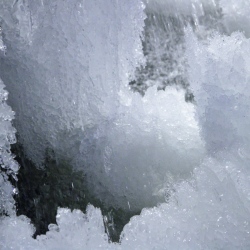 Although Arctic sea ice set a record this year for its lowest ever winter extent, that was not the case for its volume, new data reveals. Europe's Cryosat spacecraft monitors the thickness of ice in the far north. The thinnest winter ice it has ever seen was in 2013. This February, in contrast, the Arctic floes were about 25cm (17%) thicker.

The long-term trend is, however, still downwards, the Cryosat team cautions. "Year to year, the numbers will jump about, and it just so happens that we've seen relatively high levels of Arctic sea ice thickness and volume in recent years," said Rachel Tilling from the UK's Nerc Centre for Polar Observation and Modelling (CPOM).

"But sea ice volume is definitely the number people should watch, because it is the most reliable measure of how much ice is left. It's also what we need to understand the processes that have caused the Arctic climate to change which, in turn, will help us to build more accurate models of what may happen to sea ice in the future," the University College London researcher told BBC News.

The Cryosat team released its Arctic winter assessment here at the European Geosciences Union General Assembly in Vienna, Austria. The maximum extent of winter sea ice this year was called for 25 February at some 14.54 million sq km. That is the smallest winter maximum in the satellite record. It is, though, a two-dimensional view of the Arctic, and just considering extent can hide the fact that winds will sometimes spread out the floes and sometimes pile them up.