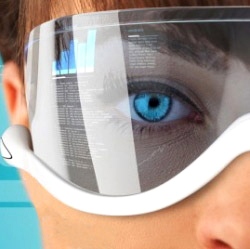 A Juniper market research report had forecast that smartglasses and smartwatches would be a market of about $1.5 billion in 2014 but Apple was expected to ship 63 million iWatches to start 2014. Will smartwatches exceed 150 million units in 2014 or will they be less than 30 million ? The level of success will be based on what killer applications are driving adoption and how seamless the integration and functions are and how hassle free the software interfaces are.

Will wearables be cool and trendy and fashionable ?
Will they provide longterm productivity value ?

It should eventually happen but will the manufacturers get the formula right like the iPad did or will they be like the Apple Newton ?
A January 2013 report from Juniper Research finds that there will be a total of almost 70 million smart wearable devices sold in 2017, including smart glasses, health and fitness devices along with enterprise wearables, compared to almost 15 million sales in 2013.

Juniper forecasts next-gen wearable devices market, including smart glasses, will be worth more than $1.5 billion by 2014, up from just $800 million this year.

Apple is projected to ship 63 million iWatches for the start of 2014. This alone would be over $6 billion worth of product.

If Apple were to sell more than 60 million "iWatch" units in the first year, it would be a number more than 4 times above the 14.8 million iPads Apple sold in that product's first 12 months. However, the iPad carried an entry level price of $499 in its first year, while Wanli expects the "iWatch" to cost less than half of that.

It's been claimed that the new product will focus on biometrics, offering users feedback on health and activity by acting as a pedometer, heart rate monitor, and possibly more.

The Pebble smartwatch recently passed 275,000 units in sales.

Wearable computers are small electronic devices worn by the user, which enable mobile computing and wireless networking. The term "Wearable technology" refers to any electronic device or product which can be worn by a person to integrate computing in his daily activity or work.

ReportLinker research – The market was worth $2.7 billion in revenue in 2012 and is expected to reach $8.3 billion in 2018, growing at an estimated CAGR of 17.71% from 2013 to 2018. In terms of product, wrist-wear accounted for the largest market revenue at $876.70 million, while neck-wear enjoyed the least market share, all as of 2012. For application segment, consumer application sector accounted for the largest market revenue at $2,367.99 million, while enterprise and industrial application enjoyed the least market share with revenue of $73.04 million as of 2012. However, enterprise and industrial application is expected to grow at the highest CAGR of 21.14%, during the forecast period, i.e. 2013 to 2018. North America, with U.S.

accounting for more than 80.00% of the market is the single largest one and expected to continue with its dominance during the forecast period as well. However, Asia–Pacific, with China leading the way, is likely to grow at the highest CAGR during the same time.